Top 6 Gangster Movies
The Godfather (1972)
The acting was simply exceptional. What else could you say? What could be more appealing to people(even today) than watching actors like Al Pacino, Marlon Brando, James Caan, Diane Keaton, Talia Shire, and Robert Duvall? This is like heaven for someone who is a fan of movies. With this movie, Brando was able to bring himself back into the limelight. His performance as the godfather alone is iconic. His character has been recreated so much in films that it has almost as if it has not already become a cliché. His performance, though, was not a cliché. His performance was subtle and breathtaking. It was so genuine and realistic that it was not just probably but more authentic than Marlon Brando himself. Al Pacino was perfect for this film as well. What a way to start up your career. His character was all about depth, and he displayed it perfectly. He expressed his inner battles in his mind and the struggles he had with his family, friends, and enemies. His character was more of a psychological character study than anything else to me. Robert Duvall, to me, was the glue to the movie. He added a different perspective to everything in just that he was not Italian yet having the respect of the mafia. His character is a man of high authority within the Corleone family who was listened to and insightful. This was perfect, giving the film outstanding balance throughout. The rest of the cast was the icing on the cake.
The writing was phenomenal and breathtaking. As mentioned before, there has been no movie quoted more than this. It is not even the quotes, though, that makes the writing in here so perfect. It is the symbolism and meaning that went into every scene. There are countless symbols, messages, and lines that are so memorable yet realistic as a movie could get.
The Godfather Part 2 (1974)
An Insult To Call It A Sequel, To me and probably to many other people, The Godfather Part II is more of a continuation than a sequel to The Godfather. Al Pacino and Robert de Niro win the Oscar for this film. Robert de Niro's performance as Vito Corleone is perfect, every scene in which this one is perfect. Al Pacino is always excellent, and unlike the first film, he is much better at EVERYTHING. The script, the direction, the cast, the performance, everything in this film is perfect and its 3 hours are worth it.
This movie is perfect.
Goodfellas (1990)
"MAYBE YOU HAVEN'T HEARD I DON'T SHINE SHOES ANYMORE" Tommy DeVito
Classic gangster epic from SCORSESE, this movie is an ultra-violent retelling of the infamous LUFTHANSA robbery, the events leading up to it and the aftermath, centering in on the life of HENRY HILL and his rise through the MAFIA ranks, the events that unfold here give you a realistic insight into the MAFIA underworld. A stellar cast, including DE NIRO, all put in flawless performances, but JOE PESCI steals the show here. A terrifying portrayal of psychotic TOMMY DEVITO with a violent comedic personality is worthy of any nomination. There is no downside here, and this movie is embedded as one of the best mafia movies out there, highly recommended.
Casino (1995)
It feels short for a 3-hour movie.. Casino is so fast-paced and entertaining, and it doesn't even feel like it's 3 hours at all. Fans of Scorsese, DeNiro, and Pesci will love this. They're all at their usual greatness, but the pleasant surprise from this movie is the electrifying performance by Sharon Stone (who won a Golden Globe award and got an Oscar nomination for her role). She's genuinely the crazy bitch you love to hate.
It isn't all too original, it uses the same formulas as other Scorsese movies (particularly Goodfellas), but it just works. It's a fun movie. The camera moves as if it has a life of its own, almost every scene is set to great music, the dialogue and narration are top-notch, and everything is just perfect. What more could you possibly want?
It's the closest thing to Goodfellas II, but it still stands on its own very well. Everyone should see this movie. It's 3 hours well spent.
Donnie Brasco (1997)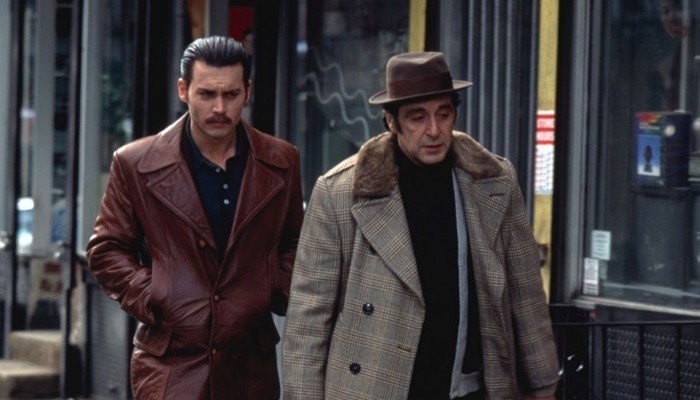 Al Pacino's 2nd Best Movie, Scarface, which is his best and in my top 6 Cocaine movies. On one level, "Donnie Brasco" might look like another mafia movie. But it's not. It tells the story of FBI agent Joe Pistone (Johnny Depp), who in the late 1970s infiltrate the mafia. So, he got acquainted with hit-man Benjamin "Lefty" Ruggiero (Al Pacino). But lo and behold, Joe got too much into the mafia lifestyle, to the point where it dominated his life and kept him from his family.
Both Depp and Pacino are about as intense as we expect them to be, with good support from Michael Madsen, Bruno Kirby, James Russo, Anne Heche, and Zeljko Ivanek. With his hair all greased back, Depp looks like the ultimate mafioso. It's certainly a less glamorized view of mafia life than most of Al Pacino's movies, and Johnny Depp was undoubtedly showing the same flair for acting that he has brought to the screen. Very well done.
The Departed (2006)
Now I know that 'The Departed' is based on the Hong Kong movie 'WuJianDao', but Scorsese grabs hold of a great story and brings it to the American Screen. Then there's the acting in which the lead actors (Nicholson, DiCaprio, Damon) not only give stunningly entertaining performances, but you become engulfed in each one's perspective and dilemmas.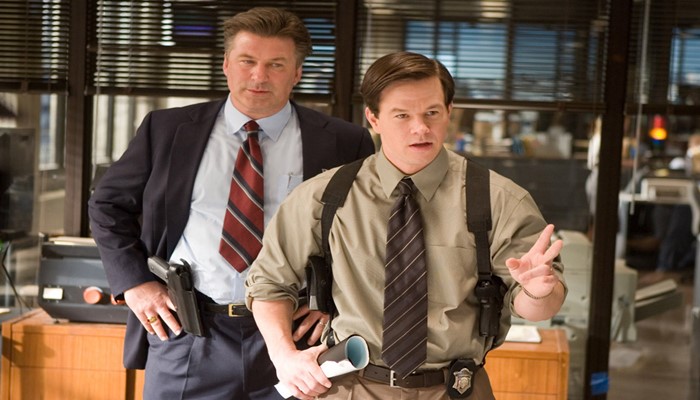 The more minor roles of (Baldwin, Walberg, Sheen) are supporting parts that remind me of Jesus Quintana from 'The Big Lebowski.' By this, I mean that their screen time is limited. Still, they make lasting impressions that you cherish every scene they are in, Alec Baldwin especially.
The story itself starts with the basic intro of the players and the setting, but you'll find yourself slowly following every plot twist and rooting back and forth for the good guys and the bad guys. If you're a Scorsese fan, which I am, I think you will appreciate this film. You can see the Scorsese touch ranging from the cinematography and, of course, the music. It's great to hear "Gimme Shelter" again, but "Comfortably Numb" played in so well. It's another gangster flick from Scorsese, yet this one stands alone because it feels so fresh, and most would agree Scorsese does gangster films the best, so why not let him. Oscar-worthy, the acting I certainly hope; this is DiCaprio's best role since 'The Aviator', which was his best role since 'Gangs of New York', do I see a pattern here. But my lasting impression wasn't concerned with the politics of the golden statue; my lasting impression was that I had sat through 2 and half hours of brilliant and incredibly entertaining storytelling. Thank you, Mr. Scorsese.
Honorable mentions:
American Gangster